Zoom for Healthcare is the Government of PEI's approved video health-care platform. The province has purchased the license on behalf of community-based health-care providers and those working in mental health and addictions. 
Aside from previous approved pilots already in use (i.e. Maple and Telemerge) health-care providers will be required to use this Zoom for Healthcare solution. If other solutions are in use, they should be replaced, including the standard Zoom application. Zoom for Healthcare offers important enhanced security features for delivering health care. 
Introducing Zoom for Healthcare is intended to help health-care providers meet the needs of their patients while supporting social distancing and limiting, as appropriate, the use of personal protective equipment (PPE). The Department of Health and Wellness will introduce a long-term virtual care framework and strategy at a later date. 
Zoom for Healthcare is a secure, web-based virtual care video conferencing platform that connects patients to their health-care provider, via their mobile device, tablet or personal computer, in their home, or personal location of their choice. 
Note: Accounts that are inactive for over three months will be converted to Zoom Basic license account, and any account inactive for over one year will be closed.  You may reapply for a Zoom license below if one is required at a later date.
BEFORE REGISTERING
Eligibility
Government purchased Zoom for Healthcare licenses and they are available to Health PEI employees for patient-facing use only, or to schedule patient consults. These groups include (but are not limited to): 
Community-based physicians and nurse practitioners
Mental health and addictions
Long-term care and home care providers
Primary care programs (i.e. Diabetes and COPD programs) 
Note:  If you are unsure if you are eligible for a Zoom for Healthcare license, please email VirtualCare@ihis.org with any inquiries and a member of the Virtual Care Team will respond within 2 business days.
 
What if you need staff-staff video conferencing?
Contact ITSS Service Desk (servicecentre@gov.pe.ca, (902) 620-3600) or your IT Consultant (ITC) to see if Webex is right for you. Webex is free of charge and has the same functionality of Zoom for Healthcare for staff use.
 
Is Zoom for Healthcare Right for You?  
Introducing virtual health care into your practice may be helpful if you: 
want to provide video-conferencing care to patients who are in self-isolation or wish to practice social distancing;
are in self-isolation and / or are available to practice remotely;
have access to necessary hardware and are comfortable with using technology for care.
 
Hardware Requirements
To perform a virtual visit using Zoom, you will need:
A computer, tablet, or a smart phone
- If using government issued hardware for this license, please be prepared to enter the device name and identification number in the request form
An internet connection – cellular, broadband or wired
Speakers and a microphone – built-in or USB plug-in or wireless Bluetooth
-  Use of headset is optimal to ensure patient confidentiality
A webcam - built-in or USB plug-in
Or, a HD cam or HD camcorder with video capture card
An email account  NOTE: If you are Health PEI employee, use your IHIS address
Visit the Zoom website for a complete list of required/recommended hardware.
 
REGISTERING FOR A ZOOM FOR HEALTHCARE LICENSE
To register, please click the link below.
Note:  Zoom Licenses are not to be shared.  Each user should apply and use their own account.
 
TRAINING
These four short PEI-customized training videos are designed to help health-care providers and support staff learn about the basic functionality of using Zoom for Healthcare. 
Your Technical Guide To Using Zoom For Healthcare 
This guide will walk you through how to use Zoom to provide patient care. From installing the application to hosting your first patient visit, it is designed to provide you with step-by-step guidance to help create a smooth transition to providing video-conference care. 
Download Complete Guide [PDF]
 
Health-Care Professionals Guide To Providing Virtual Care 
This document is designed to help health-care providers understand how to appropriately provide care virtually. 
Quick Points:
Not all care can be appropriately provided virtually. Become familiar with which type of care is most appropriate, understanding that care may depend on previous (non-virtual) relationship and an understanding of their medical problems.  
You must still work within clinical practice guidelines and College regulations. 
Spend time upfront helping to educate your patients for this new care experience. 
Patients must verbally consent to receiving care virtually; they have the option to decline.
Just as you consider your bedside manner in person, pay attention to your "webside" manner. 
The patients' privacy must continue to be protected. Do not disclose private information in the appointment request, your location should be secure and private. 
Only certain fee codes can be used for virtual care. 
Download Complete Guide [PDF]

Setting Up a Scheduler
After a Provider and their Support Staff have activated their zoom licenses, they each will need to update their Zoom Scheduling Settings (the videos below show how this is done).  The Provider must grant scheduling privileges to their Support Staff (can be multiple support staff) AND the Support Staff must update who they schedule on behalf of.

Note:  Both the Provider and Support Staff must have their own Zoom license.
 
Assigning Scheduling Privileges (Provider)
Scheduling on Behalf (Support Staff)
 
TROUBLESHOOTING
Zoom Help Center
Which version of Zoom am I using?
To see if you're using the licensed version of Zoom (Zoom for Healthcare), open Zoom and click the profile picture in the top right corner.  The drop-down menu should say "Licensed" (see picture below in red).  If not, please contact VirtualCare@ihis.org to convert your account.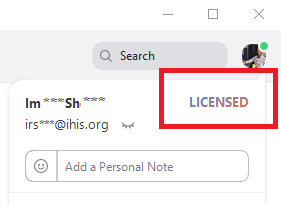 How do I reset my password?
https://support.zoom.us/hc/en-us/articles/115005171726-Resetting-your-Zoom-password
If you do not know your password, you can easily reset it using the following instructions:
Go to Zoom.us/forgot_password 
Enter in your Email address and click Send. 
You will receive an email with a link to reset your password. Click the link in the email. 
Enter in your new password.  
Enter in the new password a second time for confirmation. 
Click Save. 
You have now reset your password and should be logged into the Zoom web portal. Click 'Go to My Meetings' to be taken to the web portal.
You should also download and install the Zoom for Healthcare desktop application.  You can go directly to https://zoom.us/download and download 'Zoom Client for Meeting'. 
 
SECURITY
Zoom for Telehealth was selected as it provided increased security assurances for a health-care solution.
If the video conference is initiated in Canada, a security review of Zoom for Healthcare identifies it will be hosted within Canada.
In compliance with our privacy laws, none of your account data is stored outside Canada.
Health-care providers are asked to not use the free version, Zoom Basic. Request a Zoom for Healthcare account from Health PEI.
Zoom is committed to protecting the security and privacy of their customers' data.
Recent security concerns raised in media about Zoom are mostly linked to the free version of this service (Zoom Basic). 
Features that are automatically enabled on your Zoom for Healthcare license includes mandatory passwords for each appointment, encryption, enabling a virtual waiting room to avoid unauthorized visits and disabling the ability to record a patient encounter.
ITSS is continuously evaluating the software configurations and best practises to ensure secure Virtual Health Visits.
Health-care providers are reminded it is their responsibility to make every effort to protect the privacy of patient information. If you have any concerns, please email VirtualCare@ihis.org
 
Provider Device Security Settings
If you are not using a Health PEI device, ensure your hardware has optimal security settings, including: 
Ensuring your computer's built-in security software is up to date (and regularly updated) 
Installing an anti-virus program and make sure it updates regularly

CONTACT
Please email VirtualCare@ihis.org with any inquiries and a member of the Virtual Care Team will respond within 2 business days.
 
OTHER RESOURCES
Patient Information Guide [PDF]
Virtual Email Appointment Template [WORD]
Frequently Asked Questions – Using Zoom for Healthcare [PDF]
Checklist – Scheduling your Virtual Care Appointment [PDF]
Checklist – Hosting your Virtual Care Appointment [PDF]